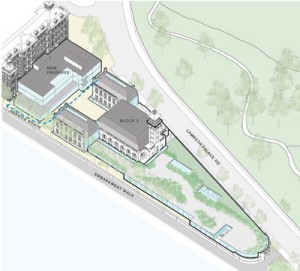 Quod secured detailed planning permission and listed building consent last week for King's College London to comprehensively redevelop the southern end of St Thomas' Hospital in Lambeth to provide a modern, commercially flexible facility for medical and education use.
Once built, the facility will house 1,000 budding doctors and nurses and provide post-graduate training for KCL students in a joint partnership with the Guy's and St Thomas' NHS Foundation Trust.
The consents represent many months of hard work. Particular effort was awarded to the justification of the design to meet the strict heritage tests owing to the fact that the site involves numerous listed buildings, is in a conservation area, and sits between Lambeth Palace and the Houses of Parliament.
For more information please contact Matthew Small.