Full Planning Permission Granted for New Student Accommodation for Unipol/University of Leeds, Leeds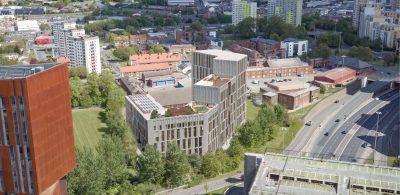 Quod recently secured planning consent for the redevelopment of existing student accommodation for high density purpose built student accommodation on behalf of Pickard Properties. The scheme will deliver 604 student bedspaces within a 15 storey building, set within a high quality public realm, as well as providing indoor and outdoor amenity space for occupants (including roof terraces, internal sky gardens and a landscaped courtyard).
Quod's Leeds team managed the application through pre-application discussions, community engagement and negotiation of the consent. Quod will also be advising on the planning aspects of the post-decision delivery.
The scheme will be operated by Unipol on behalf of University of Leeds. The scheme has been designed to have especial regard to student welfare, including the wellbeing of the occupants, as well as inclusivity and affordability.
Despite the complicating effect of COVID-19 on the planning process of this application, the development was subject to extensive public consultation. Early collaborative and positive pre app engagement with members and officers, enabled LCC to grant consent under delegated powers. The expediency of the decision making process, will mean that the proposals can be delivered for the 2023 student intake.
In the face of the potential economic and social impacts of COVID-19, the scheme will deliver a range of local benefits, including (i) improved environmental sustainability and resilience for the area, and enhancement of the local communities amenities, (ii) residents of the scheme will have access to high quality accommodation that promotes student health and wellbeing, while (iii) local businesses will benefit from associated future spending and the increased labour capacity students provide.
For more information, please contact Tim Waring or Luke Thorpe.