RTPI Young Planners' Newcastle Conference
Continuing our support for the Royal Town Planning Institute (RTPI) and the future of the planning profession, Quod co-sponsored the Welcome Drinks at this year's RTPI Young Planners' Conference in Newcastle.
The RTPI Young Planners' Network provides a wide variety of activities and services at both national and regional level, all targeted at planners and other built environment professionals in the early stages of their career. The Young Planners' Conference is an annual event giving members of the network a great opportunity to meet other young professionals and learn from planning experts. The Welcome Drinks were well attended with around 200 young professionals in the room, arriving to hear Quod's James Guthrie welcome everyone to the event.
A team of ten young planners from Quod attended the conference weekend, spending their time learning about all aspects of planning – from the regeneration of coastal towns, through to a walking tour of Ouseburn ("if Newcastle upon Tyne had a Shoreditch, this would be it" Guardian, 2018).
We hope to see you at Young Planners 2020 in Edinburgh!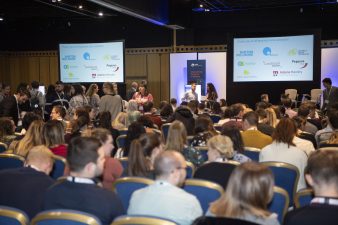 (Copyright RTPI)